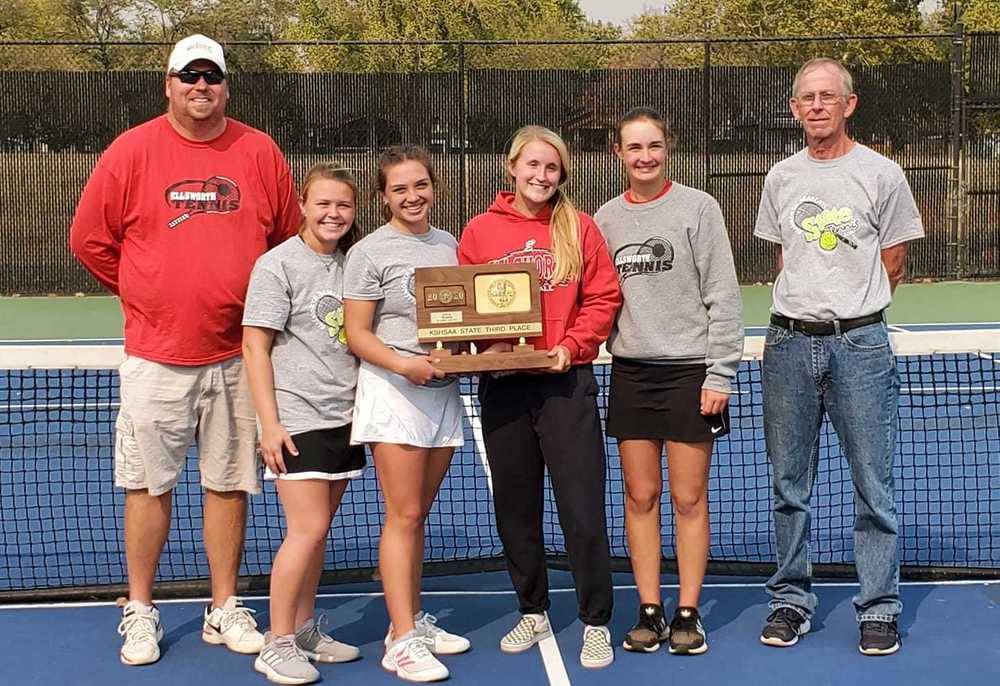 Lady Bearcats Tennis End Historic Season with a Third Place Finish at State
Coach Maisog
Tuesday, October 20, 2020
The 2020 tennis season ends for the lady bearcats with a 3rd place finish at State. Led by head coach Eric Anderson and assistant coaches Jason Maisog and Garry Stredney, the team adjusted throughout all types of adversities that were encountered with the craziness of the year.
"The girls had a tremendous season as a team. The varsity girls finished in the top 3 at every meet, which meant that it took all six girls doing their part." Coach Anderson said about the season.
At State, the two doubles team qualified and battled on day one to reach the medal rounds. Jaycee Cunningham and Steph Soukup won their first match against Westergard and Stoppel of Scott City, 6-0, 6-4. They then took care of business against Boyles and Osner of Conway Springs, 6-3, 6-0. Maggie Windholz and Nicole Haase faced the other Scott City team of Guittierez-Myers and Hermosillo, the duo won 7-5, 6-3. They then faced the number one overall seed Bartels and Sand of Kansas City Christian and were defeated 3-6, 0-6. They came back on the back side of the bracket and defeated Green and Jargo of Classical School of Wichita, 9-1 to play on through medal rounds.
On day two, the teams faced a stiffer competition as Cunningham and Soukup lost in the semi-finals to eventual State Champions Kansas City Christian, 1-6, 1-6. They then lost a very closely contested match against Hammeke and Metro of Central Plains for third place, 6-2, 4-6, 3-6, as they finish in fourth place. Windholz and Haase defeated Boyles and Osner of Conway Springs, 9-1 to set themselves up at a chance for 5th place. The girls then also lost a very close match against Elliott and Rauscholz of Smoky Valley, 7-9, and finished in 6th place. Being the only team at State to have two doubles team in the top 8, it was enough for a historic third place finish as a team for the Bearcats!
Overall, it was a good season with competitive play and good memories. "It has been a fun season watching us improve and develop as a great team, full of friendships." said Haase.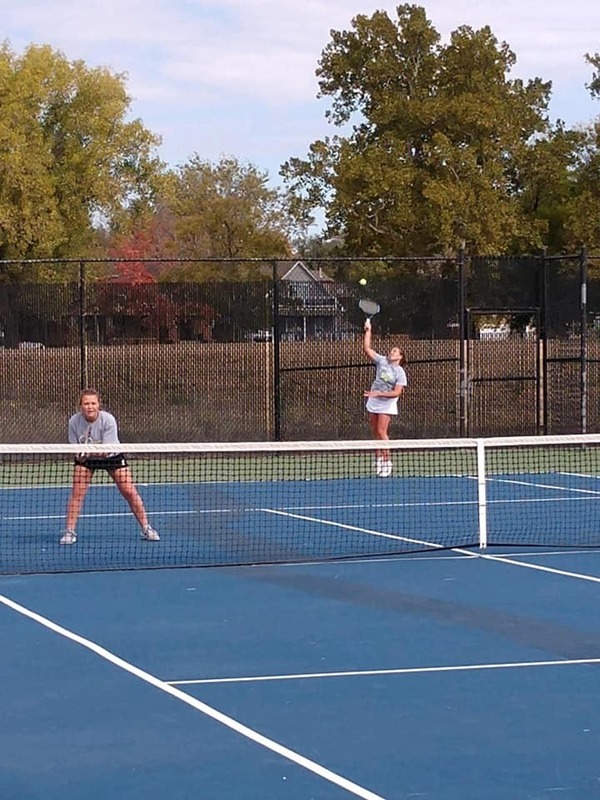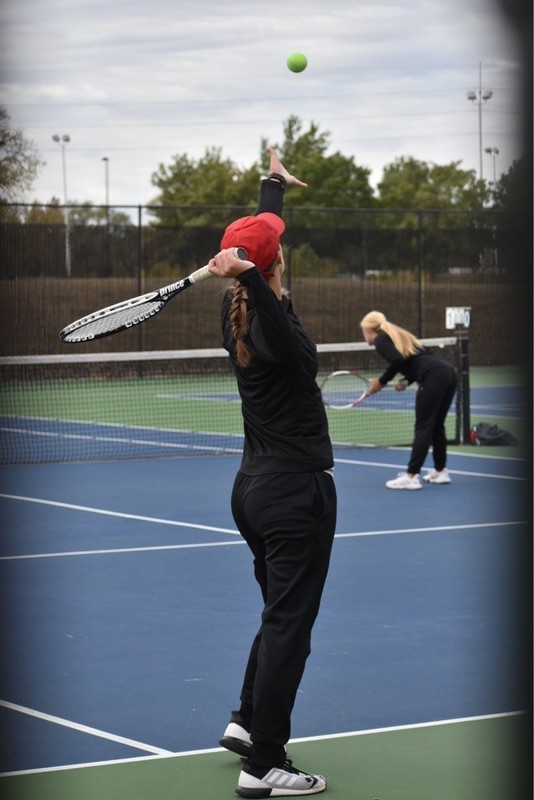 The team graduates six seniors in Jaycee Cunningham, Stephanie Soukup, Maggie Windholz, Cassie Most, Rachel Sebesta, and Stormy Thompson. "I am very proud of the six seniors and their efforts this season, to not only play at high level, but to also help out the younger players and set the team up for success in the future." said Coach Anderson. They leave some tough shoes to fill next season.
Final thoughts from some of the seniors:
"I am so thankful for my tennis family and the love that came with it." said Windholz
"I am grateful that we were able to have a mostly normal season." said Sebesta.
"I couldn't have asked for a better season to end my high school tennis career." according to Cunningham. "It was amazing to be able to play with my best friend as my doubles partner and to bring home a third place trophy from State. I'm glad that I was able to contribute to the first ever women's tennis state trophy Ellsworth has ever received. It meant a lot to have been a part of such a supportive team of girls and coaches."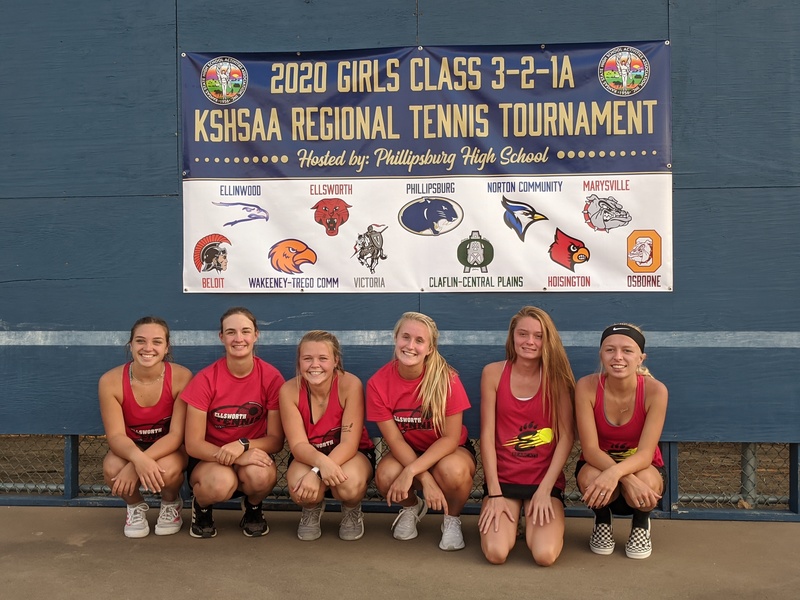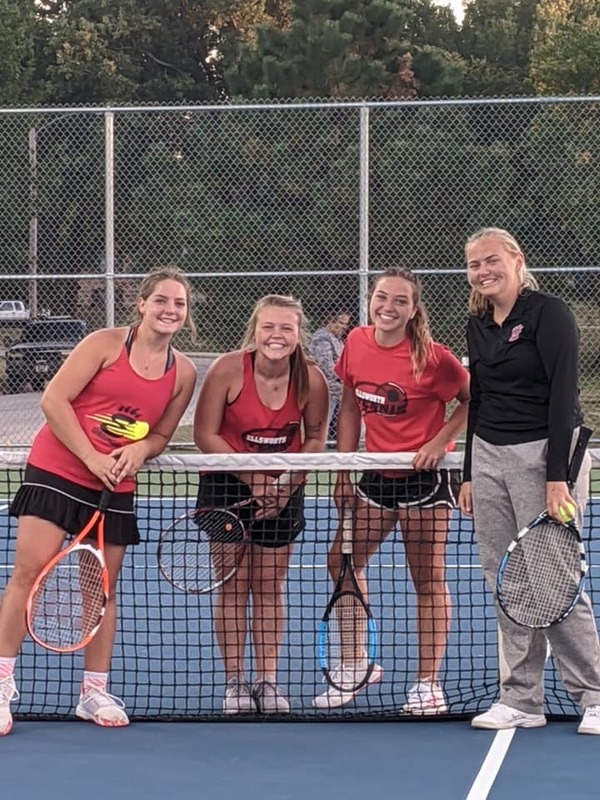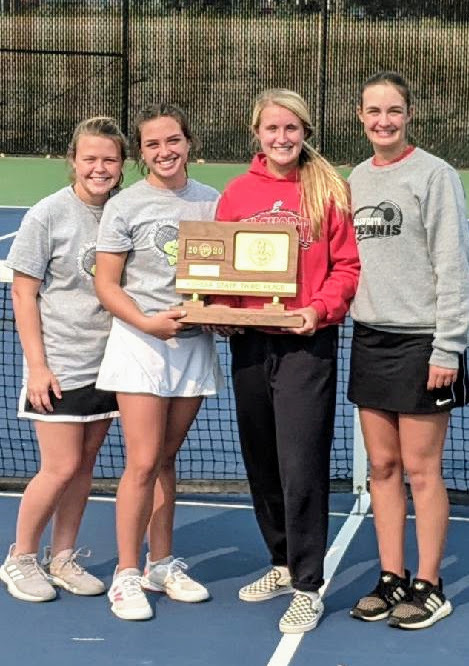 Photos courtesy of Deanna Cunningham and Jenna Haase.