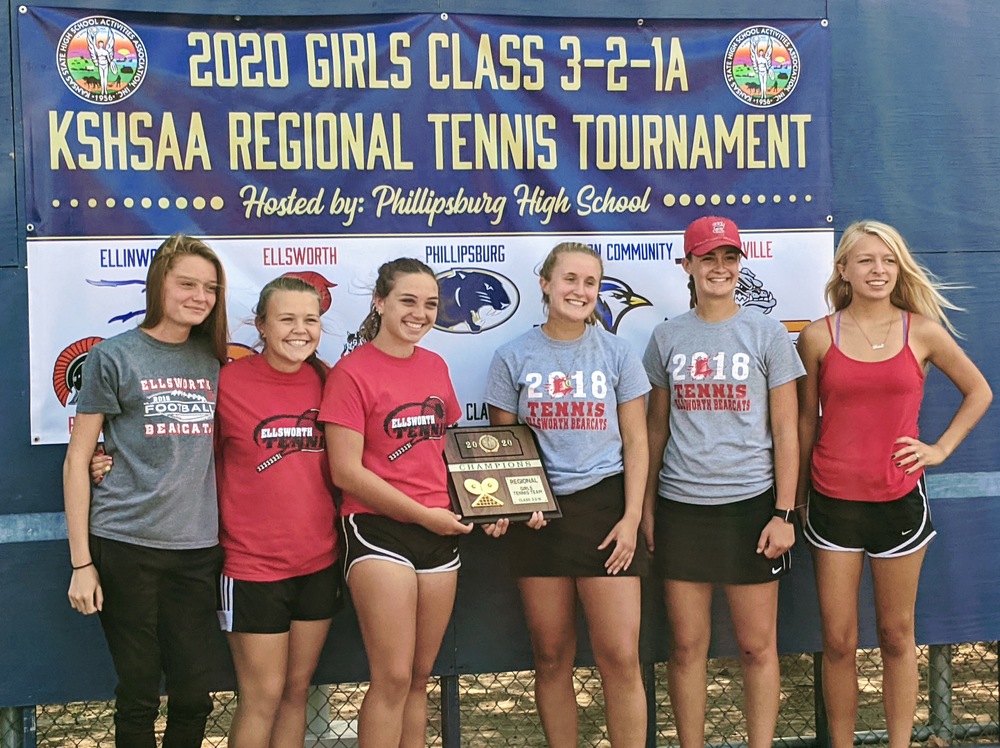 Regional Tennis Champs!
Coach Maisog
Saturday, October 10, 2020
The Lady Bearcats take home the regionals tennis championship from Phillipsburg. After a couple of days of hard fought tennis matches, the team comes out victorious, edging out Central Plains for the title 8 to 7. There were quite a few changes to this years tournament as COVID-19 has affected the way tennis postseason operates, as with many other sports. Procedures were put in place in an effort to stop the spread. From masks, social distancing, as well as the number of players that qualify for the State tournament. This year, only the top four qualify in an intense play to survive the first two rounds.
Singles player, senior Cassie M. played lights out as she won her play-in match 9-0 versus Central Plains. She then fell in the first round to the number four seed from Wakeeney, she ended the tournament with a 1-1 record. Singles player Calli S. was seeded sixth and won her first round match 9-4 versus Phillipsburg. She then lost in the second round to number three seed from Marysville, as she ended with a 1-1 record as well, but earned a team point by making it to the second round.
Doubles players Maggie W. and Nicole H. were the number two seed, while Stephanie S. and Jaycee C. were the number three seed. Both doubles team cruised through the first two rounds of day one going 2-0 and making it to the semi-finals and finals for day two.

On day two, the doubles team had to play each other for the first match of the day. It was a long and competitive match that went to a third set that was won by Stephanie S. and Jaycee C. 6-4, 3-6, 6-3. They then moved on for their finals match against Central Plains, while Maggie W. and Nicole H. also faced the other Central Plains team for third place.
Jaycee and Stephanie fell to Central Plains for the doubles title 3-6, 2-6, but earned four team points for a second place finish. Maggie and Nicole was in another tough, three set battle. This time against Central Plains. The duo were successful as they won the match 5-7, 6-3, 6-0, and earned three team points with a third place finish.
At the end of the tournament the Lady Bearcats took home the title of Regional Champions as both doubles team qualify for State next weekend in Wichita.