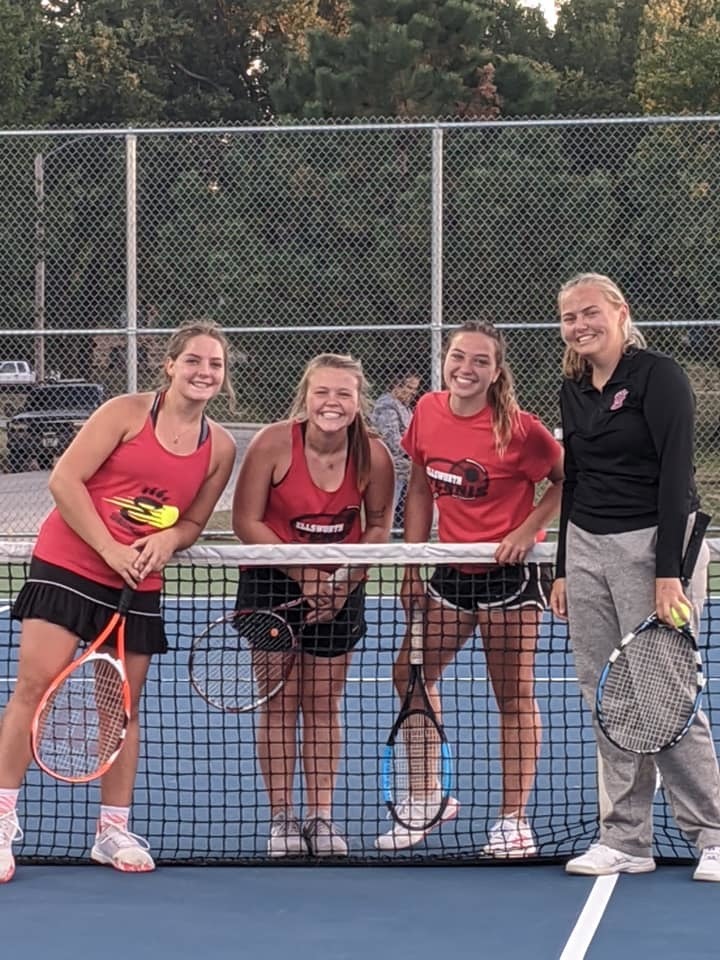 Lady 'Cats Tennis Finish Regular Season Strong, Prepare for Regionals
Coach Maisog
Friday, October 02, 2020
Lady Bearcat Tennis end the regular season in strong fashion as they competed at a pair of home meets this past Tuesday and Thursday, finishing 1st and 2nd respectively. They also competed Monday at the rescheduled Smoky Valley meet where the team finished 3rd.
At the Smoky Valley meet, teams competed without a designation of number ones or twos. The doubles team faced each other for the 3rd place spot. Nicole H. and Maggie W. edged out Jaycee C. and Stephanie S. in an intense tie breaker 6-4, 5-7, 7-6 (9-7). Singles Cassie M. finished in 8th place, Callie S. in 9th place, and Rachel S. in 10th place.
At home on Tuesday, the team just beat out Larned for first place with 30 points to Larned's 28. Jaycee C. and Stephanie S. finished 1st place with a 3-0 record at #1 Doubles, while Maggie W. and Nicole H. also finished at #2 Doubles with a 3-0 record. Cassie M. had a rough day and ended with an 0-3 record, while Callie S. fared better finishing 3-0 for first place. The junior varsity were also able to participate to gain some experience.
On Thursday, the team faced some stiff competition from Salina South and finished 2nd behind them. Maggie W. and Nicole H. finished the day in 2nd place at #1 Doubles with a 3-1 record. Stephanie S. and Jaycee C. swept the #2 Doubles and took first place, 4-0. Cassie M. had some close matches, but ended the day 0-4. Callie S. finished the day with 2nd place and a 3-1 record as well. Seniors Stormy T. and Rachel S. were able to join in the competition as they filled in as extras for another team and finished the day with a 2-2 record for 3rd place.
The Lady Bearcats will head on to regionals at Phillipsburg next Friday and Saturday.
Photo courtesy of Deanna Cunningham